Headshots are an important piece of your corporate marketing strategy. Recently, we've provided a variety of companies with updated headshot photography for their business or organization. Today, we're going to break down the importance of updated headshots as well as insight into Two Stories Media's process when it comes to capturing your headshot.
Importance of Updated Headshots
Put your best foot forward. Headshots are often the first impression that people see of your business, so an outdated selfie taken on your camera phone isn't going to cut it. A professional headshot ensures that you look your best in a high quality photo.

Personalize your brand. Headshots don't have to be boring. Let your personality and brand shine through – this can be done through your clothes, accessories, and even how we edit the photo (for instance, color versus black and white).

Consistency & Staying Active. Have you ever gone to website and looked at the team photos? Do they look consistent and cohesive? It's important that all of the headshots look consistent as this shows organization and attention to detail. Additionally, updating your headshots allows you to stay active on your website and social media. Updating your headshot allows you to better connect with people through the impersonal internet by showing your most current self.
Two Stories Media Headshot Photography
We capture headshots a little differently than a standard photographer. We utilize our film background, such as how we light scenes, and our experience on commercial and advertising shoots. We then apply the principles to headshot photography. Doing this gives us full control of the light and assure that the look is exactly how we and our client intend.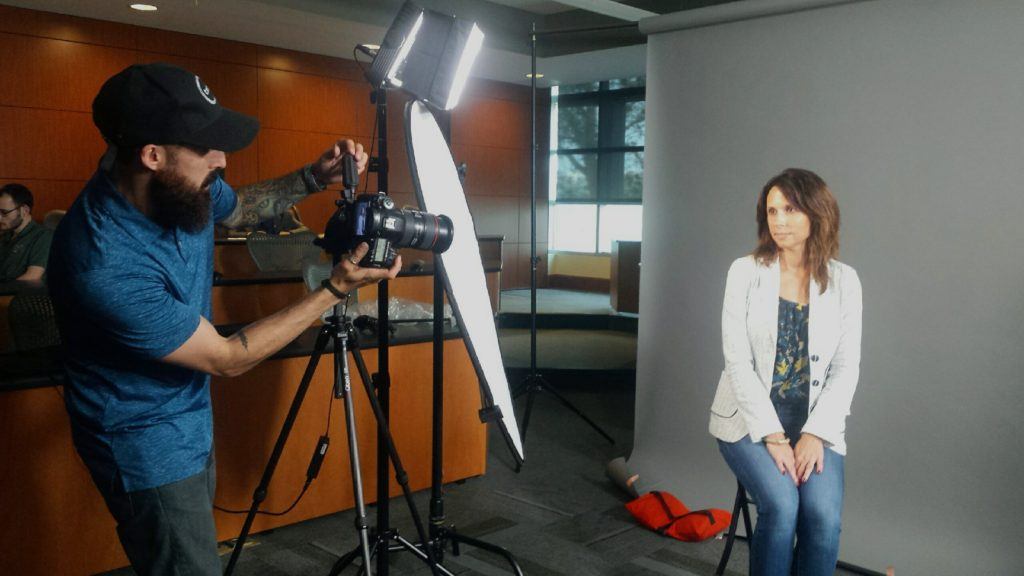 We walk our clients through a three stage process. First, we identify the look through brand recognition and provide a lookbook for approval. Second, is production day. This day includes setting up backdrops and lighting and identifying the background. Then, we complete test shots. Finally, we take our clients' photographs. Third, is editing. We edit minimally because we take the time during production to make sure it is exactly how we want the photos to look. It may take a bit of extra time and patience on production day to get the settings perfect, but it provides a very natural and organic look that people are comfortable with.
Headshot Photography Promotion
What about you? When was the last time your headshot was updated? If it's been a while, now is the time to take advantage of our headshot photography special! Contact us to schedule your headshot session today.
$750.00 headshot special package includes: 15 individuals maximum, 1 headshot per person, 3 hour session at your business location (with a variety of color options) within Tampa, Clearwater, Largo, or St. Petersburg or in studio (with a white background). Must be a new client with Two Stories Media. Special is limited to the first five new clients. Contact us for availability. Additional persons, photos, edits, and time will incur additional fees.