A commercial video is one of the most fundamental things that can help engage a prospective audience. The construction of any video production goes through a lot of different components. There is the initial vision, storyboarding, location, cameras needed, lighting, and manpower. The same strategy was used for Valley Fir.
Since 1954, Valley Fir has been one of Georgia's top-quality woodworking providers, known for its amazing woodwork and high-grade lumber. They wanted to showcase the woodworking's fast-paced production within a three-spot sequence. This isn't your everyday shoot. TSM was up for the challenge of getting the distinctive tones and highlighting the different components of Valley Fir.
Location Scouting and Travel
As a team, TSM drove up to Georgia, with a fully loaded Grip Trailer, a packed truck bed of clothes, and misc. camera gear. We pulled right into our working location of Valley Fir to scope out the beautiful lumber yard, and well-thought-out construction zones, and we plotted out our shots.
Being Florida natives, we don't have the lushness of Eastern Redbuds and American Beech Trees. On-site filming allowed us to unlock our innovative side and add different creative aspects to our shots.
Traveling like this for work helps to reset our minds. Dylan said, "Traveling is a big deal for me. I love the states and find myself wanting to talk to locals, and eat at the hard-to-find restaurants."
Let's talk about lighting
TSM wanted to showcase the tone of woodworking. The woodworking shots are fast-paced and are the most stylized of the bunch, with warmer tones, heavy shadow use, and quick cuts to the transition throughout the process of making a custom wood piece of furniture.
You will see we leaned into the warm tones with the lighting, which plays off the wood itself. Throughout most of the scenes, only a single lighting source was utilized. This was on purpose to keep as much in shadow achieving a moodier look.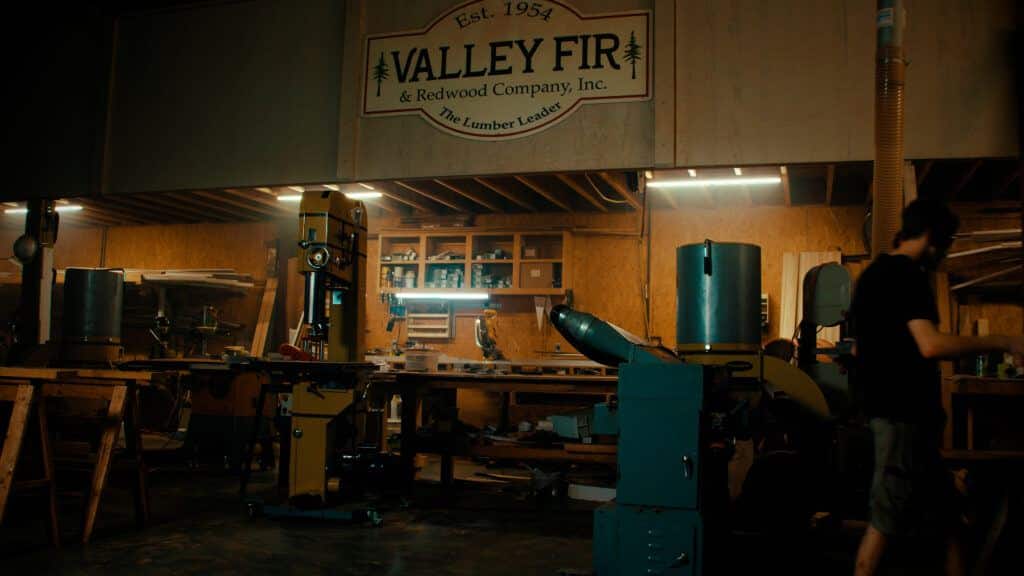 The veteran's specific spot was a stark contrast, incorporating brighter, organic lighting to highlight how Valley Fir works with, and has, veterans on staff. Dylan worked on the introductory shot. He had the subject turn and sidestep into the Valley Fir logo so that it would match the voiceover line perfectly. Dylan accomplished the shot by using a Dana Dolly, going left to right to further add movement and intrigue to it. After that, we showcase two veteran employees, highlighting what they do daily, while at all times seeing their faces and actions – never deviating from that human connection.
Bird's Eye View
Finally, the customer experience spot told a full-fledged story of what you can expect at Valley Fir. There are two things you will notice here: drone usage and a high-key side light. Ryan utilized the drone to transition from town to facility all while maneuvering the truck into the lumber yard. These shots keep the viewer engaged while establishing where we are at all times. For lighting, we utilized a high-key look. This achieved a brighter key source that wraps around the face to keep our subject at the forefront of the viewer's eye.
TSM strives to highlight the camera-ready side of our clients. Things that seem as simple as lighting are more complex and can alter the tone and mood of the production.
Stay tuned for a PART 2 coming later this month.